Tools for Mold Production
We will assist you with 40 years of history and experience that we have developed in the field of manufacturing.
In the field of manufacturing, especially in mold production, there are always finishing processes by hand that are so important yet intricate, which is said to be "the final finishing of blowing the breath of life into the mold". We have thought and sought of ways together with expert craftsmen through trial and error. Starting with these completed and well-proven products at the forefront, we have many types of tools that achieve savings in both labor and time.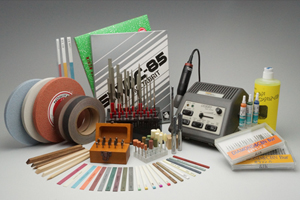 Handled Items Include:
■Polishing grindstones
■Diamond tools
■Paper (Made in Japan / overseas)
■Diamond / CBN grinding wheels
■General cutting grinding wheels
■Polishing materials
■Mounted grinding wheels
■Electric powered / pneumatic tools
■Chemical products
■Machinery peripheral equipment / tools
Copyright © 2012 KASEI CO., LTD. All Rights Reserved.